Multiple forums discuss the benefits and drawbacks of the recent bipartisan legislation to adopt Final Five Rank-Choice voting in Wisconsin's US Senate and the House of Representatives elections.
With a bipartisan legislative proposal in the Wisconsin Senate, Final Five Rank Choice Voting has become the center of multiple discussions recently. The forum, "Final Five Rank Choice Voting" on Wednesday, September 29th was hosted by Leader Ethics, a non-profit organization focused on ethical leadership practices among elected officials and a proponent of Final Five Rank-Choice Voting. Additionally, the "Can Ranked-Choice Voting Work in Wisconsin?" forum took place on October 7th and was hosted by the University of Wisconsin - Madison. These discussions were held to explain this voting system and discuss its benefits and potential drawbacks. Katherine Gehl of Democracy Found, Senator Jeff Smith (D-Eau Claire), and long-time Eau Claire businessman Mike DeRosa were some of the many speakers on the September 29th forum and Lee Drutman of New America was one of the individuals involved with the October 7th forum.
A one-minute video from MPR News in Minneapolis, MN giving a brief explanation on rank-choice voting.
Final five rank choice voting comes in two stages. As described by Katherine Gehl, it starts by getting rid of party primaries in Wisconsin. Every candidate would be included on a ballot that the state would vote on. The top five finishers from that ballot would advance to the general election, regardless of party affiliation. This means that when the time comes to vote in November, the ballot will list 5 candidates.
The second stage of this voting system occurs at the general election. Instead of simply choosing one candidate, voters will have the option to rank the candidates from most preferred to least. When the polls close, only the first choice will be counted. If a candidate receives the majority of the votes, that candidate wins. If no candidate has the majority of the votes, it will go to a runoff where the ranking of the candidate from most to least preferable comes into play. The last place candidate is eliminated and their supporter's second choices are allocated to the remaining candidates on the ballot. This process will continue until one candidate receives the majority of the votes cast.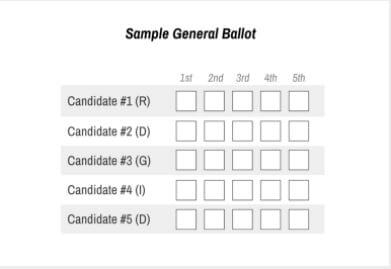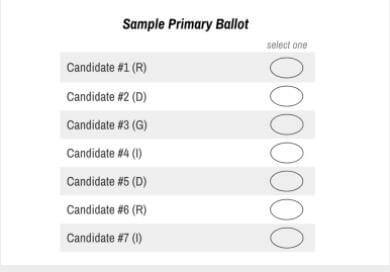 Example of a Primary and General Ballot under the Final Five Rank Choice Voting System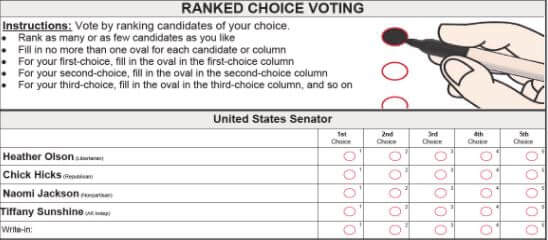 Example of a rank choice voting ballot to be used in Alaska.
Katherine Gehl argues that this combination of final five and rank choice voting in the general election will allow elected officials the political freedom to solve problems and serve voters during their time in office without the fear of reelection caused by primaries. Additionally, Mike DeRosa emphasizes that politics is the only industry that accepts that competition is better for the customer, or in this case the voters. When there is no competition, as there is with primaries, candidates are not held accountable to their constituents because they simply have to be the lesser of two evils or make people so disappointed in the governmental system that they just stay home on election day.
However, Lee Durtman argues that primaries are not actually the source of competition. He calls to attention that research shows that the type of primary has not been shown to influence the outcome of the primary. Durtman then questions whether the first stage of Final Five Rank Choice voting, getting rid of primaries, will really have as much of an impact on competition levels as others may claim.
Although Final Five run off voting may seem outlandish to some, it has actually been adopted by multiple other countries and even parts of the US. Countries such as Australia, Canada, India, and the United Kingdom use a variation of Final Five Run-off voting for their elections. Alaska and Maine are also using rank choice voting in state-wide elections, including the presidential election. Twenty Cities, including Minneapolis have used rank choice voting in their municipal elections. Similar proposals have been introduced in 28 states this year.
This legislation in the Wisconsin Senate has been gaining momentum with 24 state senators in support across the aisle. The Final Five Rank-Choice Voting proposed in this bill would only pertain to federal elections for US Senate and Representative to Congress.
Posted by Brianna Franke
franke@eauclairechamber.org