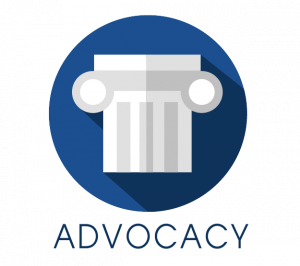 The Eau Claire Chamber's mission - to be the "Advocate of Business" and its motto, "Our Community is Our Business" - both point to the importance of Advocacy as one of our core pillars.
Decisions made at every level of government – whether locally at city hall, school boards, the county courthouse, or in Madison and Washington – have a profound impact on our local businesses and the economy. That's why the Chamber is committed to being your eyes and ears – and, when needed, a non-partisan voice for the business community.
The Chamber accomplishes this through:
Advocacy on business-related issues at the local, state and federal levels
Connections and relationships with policy makers
Timely information and education for Chamber members
Equipping members for effective involvement and influence

Role in the community
The Chamber will seek to maximize its positive impact in the community through its unique ability to be a…
Catalyst for business growth
Convener of leaders & influencers
Champion for a strong community*
*3C Chamber concept – Western Assn of Chamber Executives (WACE)
The Chamber's specific Advocacy activities include:
Actively monitoring key issues at all levels of government.
Maintaining a regularly updated Business Issues Agenda, with the Chamber's positions on key economic issues.
Publishing the weekly Business Advocate e-newsletter, a need-to-know digest of relevant business-related issues, as well as updates on Chamber positions.
Organizing Advocacy events like Eggs & Issues policy breakfasts, Lawmaker Luncheons, Virtual Town Halls, and other online and in-person events to connect Chamber members with policy makers.
Educational opportunities where investors can learn more about how government works, how to get involved, and to make their voices heard most effectively.
Candidate Questionnaires, debates, forums and other election information. (The Chamber does not endorse candidates.)
Dedicated Governmental Affairs staff and volunteer-led Governmental Affairs Committee to maintain relationships with governmental officials, monitor issues, and recommend action when needed.
The annual Chippewa Valley Rally, in cooperation with the Chippewa Falls and Menomonie Chambers, bringing the business community's voice to the State Capitol in Madison.
Cooperative efforts and information with like-minded organizations, including other local chambers, the state and national chambers, and other business-related groups.

If you have any questions regarding the Chamber's role in governmental affairs, please contact Scott Rogers, Vice President Governmental Affairs.
Thank you to our Business Advocate Investors: