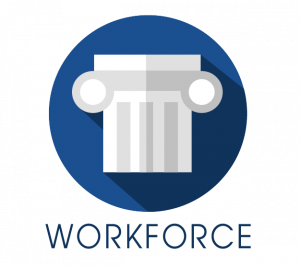 We represent and advocate for 45,000 employees throughout Eau Claire County.
"The Chamber's role, led by its Workforce Development Committee, is to serve as an action committee and support for employers as they work to solve their immediate and long-term talent and workforce challenges"
Workforce has become the number one issue of employers across the Chippewa Valley. Increasing demand for many occupations has been met with demographic challenges and continuing skills gap issues. Companies are experiencing difficulties in filling positions, and retaining employees dampening their opportunities for business growth.

Promote our area's unique assets and value in attracting and retaining talent.
Approach workforce as a critical supply chain issue. Serve as a catalyst to identify root cause barriers. Then, convene stakeholders to tackle specific opportunities and challenges.
Support local, regional and state workforce initiatives that have a direct impact on regional employers.
Participate and collaborate with other entities where the Chamber's knowledge and resources can provide value to achieving important goals.
View all of our Workforce Initiatives through the lens of the Chamber's Diversity, Equity and Inclusion Initiatives so that we can continue to provide solutions to workforce barriers.
Stay informed of Workforce policy and participate in advocacy opportunities.
We work to develop our future workforce through K-12 and post - secondary institutions to expose students to career opportunities in Eau Claire County. We will continue to focus and support development opportunities for employees in this region's industry leaders.
We create services and programs that attract talent to our area and show why the Eau Claire and Chippewa Valley region is a great place to live, work and play.​
When talent moves to our area, we provide businesses with professional and community development services to not only retain their employees but encourage continued development. We want to ensure everyone in our area is contributing to our growing economy and reaching their full potential.
Our Initiatives and Programs
For more information about the Chamber's Workforce-related initiatives, contact Courtney Olsom, Workforce Director.
Chamber Workforce Investors