Local leaders discuss housing supply and affordability along with public and private cooperation
The Chamber's March 18th edition of Eggs & Issues featured a discussion about housing, particularly housing supply shortages, challenges regarding housing in the region, and public and private cooperation to address housing concerns. The panel included Cody Filipczak, Owner, C&M Homes & Real Estate; Taylor Graybehl, Associate Planner, City of Eau Claire; Bruce King, Government Affairs Director, Realtors Association of Northwestern Wisconsin; Pat Smith, President, Chippewa Valley Home Builders Association; Dante Tomassoni, COO of Development, P&R Companies; and Brendan Pratt, Mayor, City of Altoona.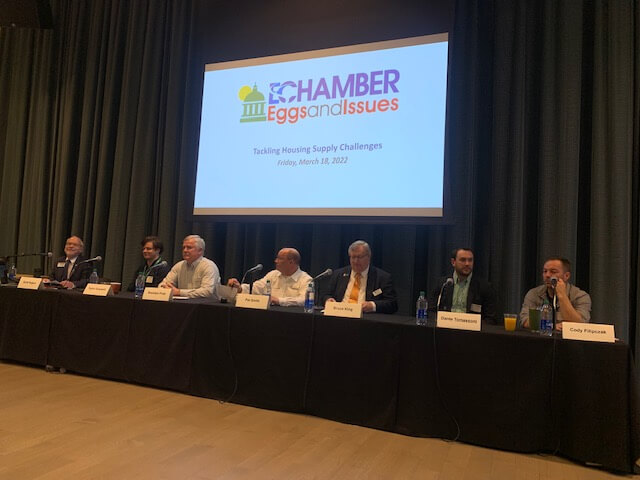 Cody Filipczak spoke about how the prices for homes have been increasing significantly over the past few years noting that they are seeing price increases of around 30% in the last two years. Bruce King spoke more about the issue of rising housing prices by stating, "Two years ago in February 2020, the median price for a home in Eau Claire County was $185,500, last month it was $285,000." Pat Smith expanded on the issue of rising housing costs, noting that, "The NAHB's lumber is up over 200% over a year ago, Insulation in our industry is up 75% to 100%." He said this is due to inflation and rising costs in the industry, similar to how inflation has effected many other industries. Brendan Pratt said, "In Altoona, we haven't had a home sell below $200,000 since the 1st of the year." He also said that if you want to buy a home, buyers will always have to offer more than the list price. Pratt said that city officials need to be flexible and work with builders at this time. 
Filipczak also mentioned that while supply chain issues are a current issue with housing supply and affordability, labor shortages also put a strain on the housing market. "Nobody wants to be in the trades anymore coming out of high school," noted Filipczak. While supply is an issue, he said they have no issue selling the houses they build despite the rising costs. King also agreed with Flilipczak about how we need to encourage students to go into the trades. He said how we need people to build these homes in order to be capable of attracting talent to the area as well. 
Taylor Graybehl discussed issues that the city is looking at and how to address the need for more housing. He noted how there is a lack of affordable housing in the area and mentioned, "In our community, in 2019 45% of our renters were rent burdened. So that means for 45% of renters in our community, 30% of their income just goes to housing. So if they face an emergency like a medical or car, do they really have anything saved up?" Graybehl said that the League of Wisconsin Municipalities Report found there were six common code issues. These categories included Lot and Yard Standards, Historic Multi-Family, Accessory Dwelling Units, Remove Unnecessary Regulations and Restrictions, Adjust Parking Requirements, and Evaluate Process. Graybehl explained the next steps for the city include a review of the full municipal code, funding affordable housing projects, and holding a Regional Housing Conference to discuss more details about housing. 
Continuing the discussion on how the public sector can work with the private sector to address housing issues, Smith said there are problems with permitting and plan reviews and inspections. He said there is little consistency from town to town when it comes to codes which is causing issues for builders. Dante Tomassoni mentioned how his company looks to work with city's to address housing needs and to relieve areas of stress from shortages in housing supply. He stated, "The key for local lawmakers is to find ways to work with reputable builders you have in your town, and find ways to approve projects." King discussed how each city and municipality has a comprehensive plan which includes areas which are suitable for housing. Pratt added that we need to follow the comprehensive plan, he says "We hear so many kinds of 'not in my backyard' comments. If they don't like it they need to come to us and help us change the comprehensive plan to make it fit." Pratt agreed with others about needing to work with developers to fill vacant land that lies in the city. 
More Information
Enabling Better Places: A User's Guide to Neighborhood Affordability (League of Wis Municipalities)
Video and story: Housing challenges in the Chippewa Valley (WEAU 13 News)
Housing Opportunities Commission (City of Eau Claire)
REALTORS® Association of Northwestern Wisconsin
Chippewa Valley Home Builders Association
Posted by Danya Morman, Governmental Affairs Intern
morman@eauclairechamber.org