Past interns reflect on their time at the Chamber of Commerce
Eau Claire Area Chamber of Commerce Interns (1997-Present)
The Chamber began the Governmental Affairs internship with UW-Eau Claire in the 1997-98 school year and has now had a total of 26 interns fill this position. While the internship is structured the same for each of us, every year is different because politics never stay the same. And although we all may have participated in similar Eggs & Issues programs or the Chippewa Valley Rally, each of us have taken the experiences we have gained from this position and used them in various careers after graduation.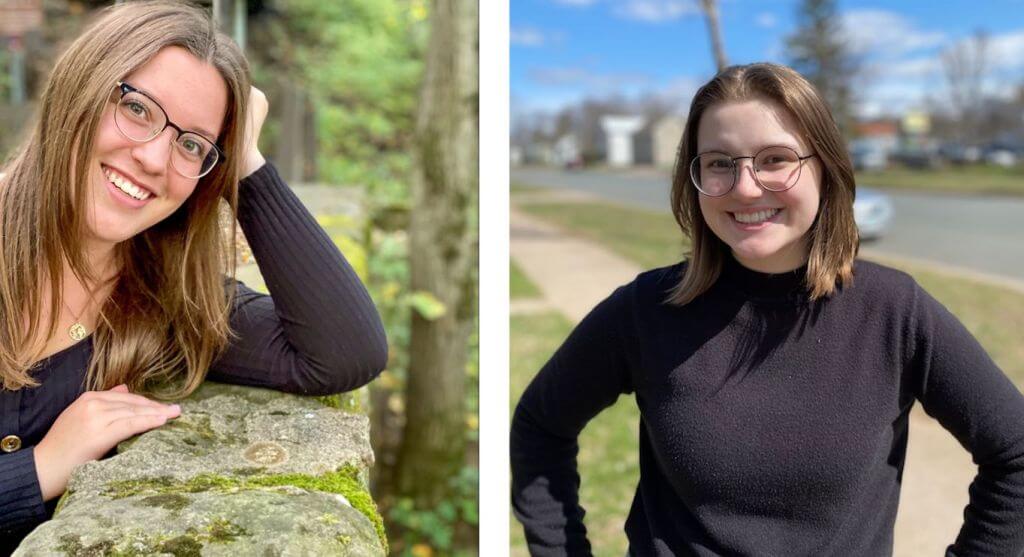 Brianna Franke:
My time here at the Chamber has been very rewarding. I came into this experience with little experience in this field and a strong desire to gain a better understanding of how organizations like this work to better a community. This internship has taught me so much about local and state governments that I don't believe could be matched by any other experience. I found the work I did with the Chippewa Valley Rally to have been the most rewarding. Having direct contact with state legislators was very interesting and was a great opportunity to better understand how the government works at a state level. I am extremely grateful for this opportunity and would highly recommend it to anyone hoping to gain insight in this field.
Danya Morman:
Working at the Chamber was not something I had intended to pursue during my college career. I started at UWEC in 2019 and was sent home after 9 months due to COVID-19. Much of my college experience had included online classes, hybrid events, working from home, and a plethora of other social-distancing related activities so any plans that I had for myself were up in the air. When the emails about fall internships started rolling in, I thought to myself "why not give it a try," and applied for the Governmental Affairs Internship at the Chamber. I felt like I had missed out on many chances to get involved on campus due to the pandemic and I wanted to learn more about state and local politics and make connections with local officials, so I thought this was the perfect opportunity to do both. I am very lucky to have been offered this opportunity and I know I will take the knowledge and skills that I have gained into my future career and other aspects of my life.
As the internship winds down and the Rally and elections have passed I think back to my experience here. I am grateful for all the opportunities it has given me including making connections that may help me in the future, gaining skills about effective lobbying, the importance of voter education and engagement, and many others. I am also lucky to have gotten to attend many events in-person and work with the Chamber to implement processes that were beneficial during the pandemic including incorporating online meetings with legislators during the Chippewa Valley Rally and including a hybrid option for Eggs & Issues. I am sad that my time at the Chamber is coming to an end, but I am excited for the new interns to have the same opportunities I was able to have. I hope to continue to be involved with the Chamber, and I am confident that my experience here will be a great benefit as I head into my final semester of college and onwards into my future career.
Where are they now?
Eau Claire Area Chamber of Commerce Interns
Brianna Franke (2021-2022)
Information current as of spring 2022
Current Position: Talent Acquisition Specialist
Location: Minneapolis, MN
Work History/Other Comments: "After graduation this spring, I will continue my work with another company I have been interning for this year, Bio-Techne, headquartered in Minneapolis. Bio-Techne is a life science company that makes and manufactures products for clinical diagnostic research. I will be a talent acquisition specialist, helping with the hiring process and recruiting of new employees. This internship has truly helped me grow in my professional and interpersonal relations skills in a way that was so unique and incredibly useful. I am extremely grateful for this opportunity and will look back on my time at the chamber with fond memories!"
Danya Morman (2021-2022)
Information current as of spring 2022
Current Position: Student
Location: Eau Claire, WI
Work History/Other Comments: "We work with Scott on a variety of projects including the Chippewa Valley Rally, the Good Government Council candidate questionnaires, voter education materials and assisted Scott with other events including Eggs & Issues and the Governmental Affairs Committee. I've really enjoyed learning about local and state politics along with meeting different policy makers and learning about important issues for the area.
I have one more semester until I graduate but after that I would like to work with local/state government or non-profits doing data analysis or polling work. I am also looking at going to graduate school for survey methodology or data science in politics."
Grace Hanson (2020-2021)
Information current as of spring 2022
Current Position: Technical writer at WIN Technology
Location: Eau Claire, WI
Work History/Other Comments: "I never would have guessed I'd be working at a tech company after graduation, but it's been an amazing experience and I give much of the credit to my internship at the Chamber. At the Chamber, I was given the opportunity to build connections with members of the community and further develop my communication skills which I now use every day. Not only did the governmental affairs internship first introduce me to WIN and Perigon (which I now write all about) but it also gave me greater exposure to the Eau Claire community, which is another reason why I decided to stay in the area :)."
Amy Oldenburg (2019-2020)
Information current as of spring 2022
Current Position: Marketing specialist at the Wisconsin Housing and Economic Development Authority (WHEDA)
Location: Madison, WI
Work History/Other Comments: "My time at the Chamber set me up for success in a lot of the interviews I've had. I've been able to discuss my work in the government affairs industry and in event planning from my experience with the Chippewa Valley Rally.
Interning at the Chamber gave me a greater appreciation for public affairs and solidified my desire to work in this field after graduation. I'm working for the WI State Housing Authority now where I still get to work closely with housing and economic development legislation, policies and projects. I enjoy working for a field that directly benefits Wisconsin residents throughout the state; this was also something I enjoyed about my work at the Chamber. The Chippewa Valley Rally gave me valuable event planning experience and has allowed me to feel comfortable in helping plan WHEDA's Annual Conference and upcoming Tax Credit Announcement with the Governor. The internship also gave me valuable experience with talking to local, state and national stakeholders. Scott knew I had an interest in both political science and marketing so he allowed me to write a few different blogs which expanded my writing portfolio."
Clayton Cavanaugh (2019-2020)
Information current as of spring 2021
Current Position: Rising third-year law student at the University of Wisconsin Law School, and have just accepted a 10 week externship at the Eau Claire State Public Defenders
Location: Madison, WI
Work History/Other Comments: "I learned a lot by spearheading a big project like the Rally, and that experience has helped immensely already. Being able to work in a professional environment like the Chamber really gave me perspective and prepared me for interacting with the legal professionals in my career path."
Emma Koehn (2018-2019)
Information current as of spring 2022
Current Position: Account Executive, McCann New York
Location: New York, NY
Other Comments: "I'm currently working on the New York Lottery account at my current agency, and working at the Chamber/participating in local government has helped me navigate my clients, understand legislation changes that have impacted business and improved my client relationships. It has helped me in many unexpected ways throughout my career and I'm still grateful for the opportunity."
Nate Kane (2018-2019)
No current information provided
Kaylee Tracy (2017-2018)
Information current as of spring 2022
Current Position: Assistant Account Executive at a public affairs/strategic communications firm (Rapp Strategies)
Location: Minneapolis, MN
Work History/Other Comments: "My Legislative & Workforce Development Internship at the Chamber sparked a curiosity for fields where communications and public policy intersect and ultimately led to my pursuit of a career in public affairs. Additionally, I have to say that Scott was and still is a great professional mentor, as my first writing coach and encourager in my career."
Savannah Sepic (2017-2018)
Information current as of spring 2022
Current Position: Government Relations Manager, Minnesota Retailers Associations
Location: St. Paul, MN
Work History/Other Comments: "The Chamber really taught me how to interact with public officials and legislators with ease. The internship pushed me past my comfort zone and got me familiar with public speaking and really showing leadership. The Chippewa Valley Rally really put me ahead of other candidates who applied for the Minnesota Retailers Association because they host a Retail Day at the Capitol and I already had experience planning an event that big."
Peter Hienz (2016-2017)
Information current as of spring 2022
Current Position: Legislative Aide, Office of State Senator Howard Marklein
Location: Madison, WI
Work History/Other Comments: "I am Sen. Marklein's lead staff person for the Joint Finance Committee, which he Co-Chairs. As it relates to the state budget, I handle a variety of issues including the Department of Transportation, Department of Health Services, the Department of Natural Resources, and the UW System, among others. Outside of the budget, I work on legislation and various research projects."I interned for former Congressman Erik Paulsen (MN-03) for two summers. During the summer of 2016, I was in his Washington, D.C. Office and spent the summer of 2015 in his district office in Minnesota. I started working in Sen. Marklein's office after graduating from UWEC. I ran his re-election campaign in 2018 before coming back to his Capitol office.
This internship helped me learn about some of the key issues in Wisconsin politics and gave me the chance to interact with elected officials and legislative staff. It also helped me get connected to the Capitol in Madison and solidify a job in the building when I graduated."
Sam Gullerud (2015-2016)
No current information provided
Nicholas Verhaalen (2014-2015)
Information current as of spring 2021
Current Position: Attorney, DeMark, Kolbe & Brodek, S.C.
Location: Racine, WI
Work History/Other Comments: Research Assistant for Dean Joseph D. Kearney and as the Symposium Editor for Volume 101 of the Marquette Law Review, Legal intern at American Transmission Company (Summer 2017), Legal intern at Marquette University Office of General Counsel (Fall 2017) "The research projects I was assigned to work on at the Chamber prepared me for legal research… [and allowed me to] develop practical analytic skills, which are essential in law school. The people I met and the experiences I had during my time at the Chamber strongly influenced my decision to become a business attorney. During that time, I learned how important a successful business community is to the well-being of a community as a whole and discovered my passion for representing local businesses."
Tyler Will (2013-2014)
Information current as of spring 2022
Current Position: Xcel Energy, CO Solar Trade Relations Manager
Location: Denver, CO
Work History/Other Comments: "Throughout my career with Xcel Energy I have had a sustained passion to pursue roles that allow me to work with communities. That passion started back in college through my experiences at the Eau Claire Area Chamber of Commerce. While I no longer reside in Wisconsin, I now work with numerous communities in Colorado. The legislative internship also developed fundamental skills such as communication, organization, and document analysis that I use every day in my current role at Xcel Energy."
Tyrel Zich (2012-2013)
Information current as of spring 2022
Current Position: Manager Pricing and Planning with Xcel Energy
Location: Eau Claire, WI
Work History/Other Comments: "Previously a Rate Analyst with Xcel Energy and Rate Analyst with the Public Service Commission of Wisconsin. Graduated in 2015 with a Master's in Public Affairs with a focus in Energy Policy and Finance from UW-Madison. During graduate school, interned for with Wisconsin Manufacturers and Commerce, the Greater Madison Chamber of Commerce, and the Hamilton Consulting Group.
Graduated in 2013 with a BA in Political Science from UW-Eau Claire. During undergraduate school, also interned for Xcel Energy and was the Chief of Staff, Treasurer, and Academic Affairs Director for Student Senate. "The ECC internship led me towards a career in politics with future internships at GMCC, WMC and, ultimately, Hamilton. Hamilton is a government relations consulting firm with 30+ clients in energy, economic development, transportation, health care, etc. I focused most of my time working on energy and economic development policy ultimately leading me to my positions at the PSCW and Xcel Energy."
Jaimie (Chapek) Smith (2011-2012)
Information current as of spring 2022
Current Position: Strategic Account Executive at Jamf Software covering the Southeast
Location: Brooklyn Park, MN
Work History/Other Comments: "My internship with the Chamber shares many similarities with the career path I have chosen in sales. I thrive under pressure and there is always more to do. I'm gearing up for upcoming quarters while trying to close out the current one. I always knew I was interested in business and commercial sales provides the environment that I excel in. I have the ability to travel and meet my customer's face to face, conduct an extensive amount of research on companies I'm prospecting, and prepare materials for meetings and product demos."
Brittany Fleisner (2010-2011)
No current information provided
Bobby Hamill (2009-2010)
Information current as of spring 2022
Current Position: Legislative Affairs Director, National Rural Electric Cooperative Association (NRECA)
Location: Washington, D.C.
Work History/Other Comments: "Works as a federal lobbyist for rural electric cooperatives, focusing on environmental and small business issues. During my time in Capitol Hill, I got an opportunity to work closely with electric cooperatives in Wisconsin-and other energy industries as well-which sparked my interest in working in this field. Previously worked as a Legislative Director for Representative H. Morgan Griffith (VA-09), and for Rep. Sean Duffy (WI-07) from 2011-2015, and Dan Kapanke for Congress (WI-03) in 2010. "The internship with the Chamber and the engagement with the membership really helped me develop the interpersonal skills that are critical to my job as a lobbyist."
Eric Platt (2008-2009)
Information current as of spring 2019
Current Position: Attorney with Mawicke & Goisman, S.C.
Location: Milwaukee, WI
Work History/Other Comments: "[The internship] introduced me to the partners of the first law firm that ever employed me. I didn't ultimately end up joining that firm after graduation, but I still stay in contact (occasionally) with some of the individuals I worked with."
Emily Cooper (2007-2008)
Information current as of spring 2022
Current Position: Attorney with the Office of Public Advocacy (which takes conflicts from the Alaska Public Defender Agency) in Alaska, representing indigent clients in criminal manners. Previously represented parents in child in need of aid cases.
Location: Anchorage, AK
Work History/Other Comments: "After my internship I graduated from UWEC and headed to law school [at the University of Iowa]. I started gaining the confidence I have now to walk into a courtroom almost every day of the week to protect my clients' constitutional rights. My experience also taught me how important local politics are. Decisions made at the state and local level affect our everyday lives, families, and the community as a whole, whether it is a decision about funding roads and schools or changes to the criminal justice system."
Jessica Vanyo (Sager) (2006-2007)
Information current as of spring 2022
Current Position: Pediatric Certified Orthotist Prosthetist
Location: Twin Cities
Work History/Other Comments: "I valued the internship I had with the Chamber of Commerce and feel that it prepared me well to be more active and aware of the legislation that affects my profession both locally and nationally."
Rebecca Wells (2005-2006)
No current information provided
Eric Ristau (2004-2005)
Information current as of spring 2022
Current Position: Attorney at Laffey, Sebranek, Auby & Ristau, S.C
Location: Madison and Sun Prairie, WI
Work History/Other Comments: "Our firm is a general practice law firm with offices in Madison and Sun Prairie, Wisconsin. I practice in a number of practice areas, including creditor's rights, business, estate planning, and real estate. My internship had an immense effect on my career path. Through the internship and Chamber I was able to meet attorneys at Weld Riley, S.C. who provided me with additional work experience during college, showed me what the day-to-day life of an attorney was like, and encouraged me to pursue law school. Once at the UW Law School, those same individuals put me in contact with my current firm. In addition, the internship allowed me experiences at organizing and presenting material, writing, marketing, and developing several other skills."
Kristi Ryman (2002-2004)
Information current as of spring 2022
Current Position: "I am the Director of the Northwest Alliance and work jointly for both Allina Health and HealthPartners. In the spring of 2019 I left performance improvement after serving as the interim director for Performance Improvement for several months. I took a new role, I am dual-employed by both Allina and HealthPartners and am in charge of the Northwest Metro Alliance."
Location: Andover, MN
Work History/Other Comments: "Worked in the Health Policy and Government Affairs Department at Allina Health for about 7 years before going back to school for a Master's degree in Healthcare Administration. While in school, worked in the operations area at a local hospital. When first hired at Allina, "Allina Health was still doing Day at the Capitol events and helping coordinate one was the first responsibility I was given after being hired. The next year we decided to lead an industry-wide, multi-organizational, single-issue day at the capitol to help set the stage that legislative session about a priority issue. I managed the entire process for the Smoke Free Minnesota Day at the Capital in 2007, which set the stage for legislation to pass later that session. I know my experience at the EC Chamber helped provide me the background and experience to pull off an event with more than 500 participants.
I would say this role [director of the Northwest Alliance] plays heavily into my past experience in government affairs since one of the things I am responsible for is managing our contract with MN Department of Human Services around our Medicaid population. We have a value contract with the state and there is risk on the line."
Emily Austin (Burris) (2001-2002)
Information current as of spring 2022
Current Position: Stay at home mother for a little over two years now
Location: Sun Prairie, WI
Work History/Other Comments: "I was the Housing Compliance Specialist at WHEDA, the state housing authority. I helped to administer the Section 8 housing program via HUD around the State of Wisconsin. I focused on renewing contracts with property owners and setting Section 8 rents for project based Section 8 units. I was there for 10 years. Before [WHEDA] I worked on two campaigns. The first out of college was for the State Democratic Party – a state Assembly campaign in the Kaukauna/Green Bay area. After that I moved to Madison and worked on Russ Feingold's 2004 US Senate campaign for a few years."
James Hanke (2000-2001)
Information current as of spring 2022
Current Position: Business Development at Market & Johnson
Location: Stillwater, MN
Work History/Other Comments: Previously: Manager, Economic Development and Community Services for Xcel Energy. "My Chamber internship was directly responsible for my first job out of college. The opportunity to meet and work with business and government leaders throughout the Chippewa Valley is the primary reason I decided to stay in the area and accept a position with the City of Chippewa Falls."
Marlin Hardinger (1999-2000)
Information current as of spring 2022
Current Position: Political Officer, Embassy Doha
Location: Qatar
Work History/Other Comments: "After the internship I worked in Madison as a legislative assistant for 2 years for Rep Sykora. At about the same time I took the U.S. Foreign Service Exam and entered the Department of State in May 2002 as a Foreign Service Officer. My assignments have included Turkmenistan, Moldova, Afghanistan, Washington, D.C., South Sudan. Nigeria, Ft Leavenworth, Kansas for a Masters Degree. In Kabul from 2018/19 I established a Peace and Reconciliation Section that coordinated negotiations with the Taliban. I returned to Washington and worked 2 years in the State Department's Counter Terrorism Bureau and since August of 2021 I have worked in Doha on the Afghan Relocation effort, which coordinates the movement of Afghans through Doha and onward to the United States."
Melanie Hubbard (1998-1999)
Information current as of spring 2022
Current Position: Finance Director for the Republican Assembly Campaign Committee.
Location: New Glarus, WI
Work History/Other Comments: " I enjoy fundraising for our legislative campaign committee and work with the Assembly Speaker to raise funds for Assembly Republicans.Although, I work in the political side of state government now, my prior work experience was in the Assembly Republican Caucus, and then in the capitol offices of Speaker Jensen, Speaker Huebsch and Rep. Dan Vrakas […] I valued my time at the EC area chamber and thought the experience was very informative."
Sam Surface (1997-1998)
Information current as of spring 2022
Current Position: Attorney
Location: Stillwater, MN
Work History/Other Comments: "I'm self-employed and have had my own law practice since 2006 or so. I very much enjoy being my own boss (except the days when it's brutal, but those are few and far between). I live and work in Stillwater, MN which is a fantastic town east of St. Paul on the MN/WI border. I do a lot of litigation work, with the largest percentage of my practice as criminal defense, but also do civil, family and probate litigation as well.The internship was absolutely helpful for me as part of my law school application. Plus, there's certainly some philosophical and entrepreneurial overlap when I decided to leave a firm and go out on my own, and many of the Chamber members I met as well."

​Posted by Brianna Franke, Governmental Affairs Intern
franke@eauclairechamber.org