Good Government Council: Wisconsin Assembly District 68 Questionnaire
When: Tuesday, August 9th, 2022; polls open 7:00 a.m. to 8:00 p.m. Find your voting location at myvote.wi. All absentee ballots must be requested by August 4th and turned in no later than 8:00 p.m. on August 9th either by mail or dropped off in-person. In-Person absentee voting will start Tuesday, July 26th and end Friday, August 5th. You can vote early Monday-Friday from 8:00 a.m. to 5:00 p.m. If you plan to vote by mail, voters are strongly encouraged to mail their ballots as soon as possible to ensure their ballot is received by the deadline.
What it's about: The Wisconsin State Assembly is made up of 99 representatives, each of which are up for election every two years and are elected for two year terms. A Republican primary is needed to narrow down the candidates. The winner of the primary will be on the ballot with the democratic candidate. Incumbent Jesse James will not be seeking reelection for this office. The candidates for District 68 Assembly are:
• Chris Connell (R-Eau Claire) Website
• Karen Hurd (R-Fall Creek) Website
• Hillarie Roth (R-Altoona) Website
• Nate Otto (D-Altoona) Website
Who can vote: The election is open to residents of the 68th Assembly District. Click on the image to pull up a more detailed and interactive map.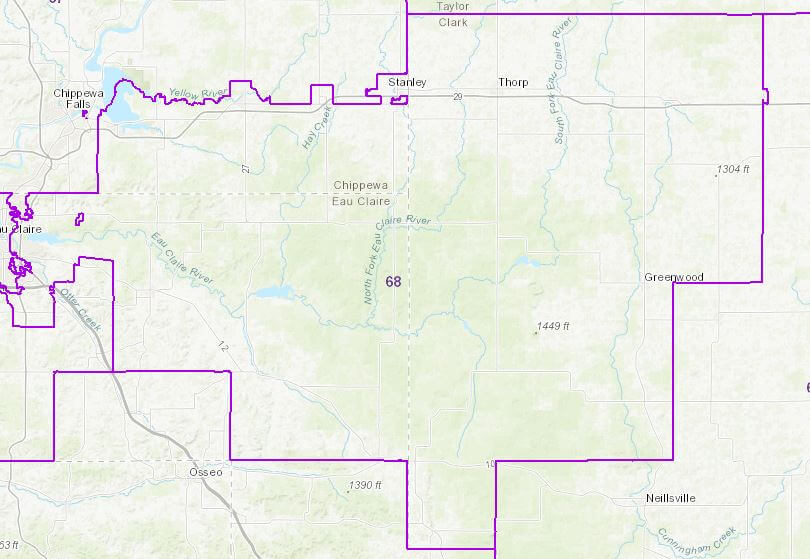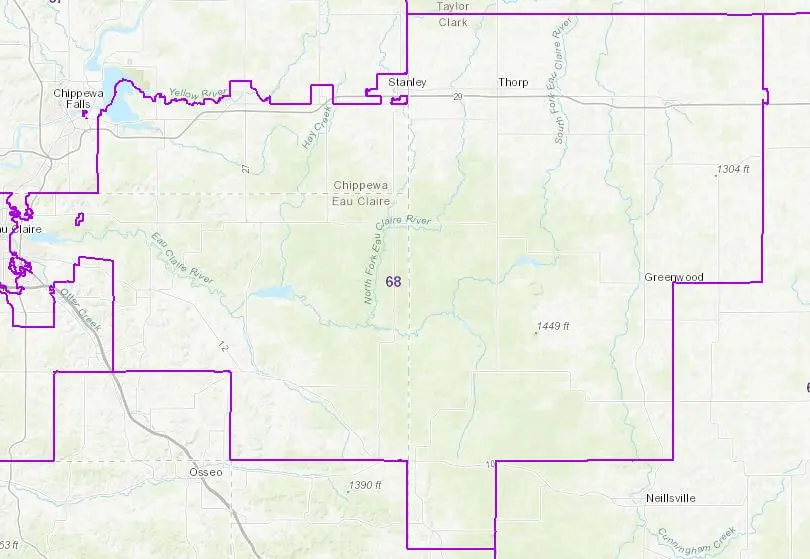 Where you vote and who is on your ballot:
• Go to myvote.wi.gov
• Enter your voting address to learn which races are on your ballot and where you vote.
Why this questionnaire: The Good Government Council (GGC) is a committee of the Eau Claire Area Chamber of Commerce dedicated to encouraging voter participation and providing members of the business community with non-biased information about candidates' positions on important issues. Although the Chamber is active in policy issues, it is non-partisan and does not endorse political candidates.
Unfortunatly, we did not receive a response from Chris Connell or Karen Hurd.
Candidate Responses
1.) Why are you running for this office, and what are the top three priorities you will emphasize if elected to the next session of the legislature?
Chris Connell: No response
Karen Hurd: No response
Hillarie Roth: My family's motto is, "I can't change the world, but I can work really hard to make my corner of it a better place." That is why I am choosing to run for Assembly, to help make my corner of the world a better place. Over the years I have served our community in a number of ways that reflect my top priorities. I am a Police and Fire Commissioner for the City of Altoona and believe that we need to support law enforcement and give them tools and support they need to keep our communities safe. I am a School Board Member for the School District of Altoona and believe in parent choice in education. Parents should be empowered to advocate for their children's educational needs. They know their children better than anyone else and should be the ones making educational decisions for their kids. I am and RN who is pro-life and am seeking the endorsement of Wisconsin Right to Life.
Nate Otto: I am running for 68th Assembly District Representative because the Chippewa Valley and northern Wisconsin are underrepresented in Madison. And across the state, extremists on both sides are taking hold of the public agenda. As a software developer and educator by trade, I will be a voice for the people from all viewpoints in the 68th. My top three priorities are expanding rural broadband, conserving our local waterways and wetlands, and funding mental health and substance abuse programs. Rural broadband opens new opportunities for rural communities to attract new business and new families. I will push to expand rural broadband. The 68th is rich in waterways and wetlands. I will work to protect our valuable natural resources.
2.) What role should state government take in supporting a vibrant business economy in Wisconsin? What specific actions or policies would you propose to accomplish it?
Chris Connell: No response
Karen Hurd: No response
Hillarie Roth: Economic development in business, manufacturing, services and retail are keys to Wisconsin's future. I would take a proactive approach with guidance from business owners to help create an environment that is conducive to doing business in Wisconsin. As with anything, there is balance. Seeking out opportunities for manufacturing sites near supportive infrastructure should be a priority for every town and city along highway or rail corridors. I would seek ways to empower those municipalities in building industrial parks, close to transportation and removed, as feasible, from residential areas. Additionally, I'd examine a more pragmatic approach to the pandemic response that resulted in 'winners and losers' chosen based on a determination of 'essential' or 'non-essential' and the widespread economic devastation that resulted. Day to day operational decisions should largely be left to those owners.
Nate Otto: I see the need for this first-hand. My wife employs about ten people in her legal business. Together we own rental property and invest in real estate. State government has a key role in building the best environment to support small business owners like ourselves. What does this environment look like? For starters it looks like safe, well-maintained roadways. I currently serve as Vice Chair of the Eau Claire County Highway Commission. Maintaining high-quality roads enables business to grow, enables families to join our community. This environment also looks like we have invested in public health, education, and recreation. My home city, Altoona, is one of the fasted growing cities in the state. Our excellent parks, venues and schools attract families. These families join our economy. Such investment in public works is not just good for business, it is also a source of future tax revenue.
3.) Businesses today face several significant workforce challenges, with more jobs open than individuals available to fill them. Among these issues are demographics related to the size of the workforce; state support to recruit and retain employees to the area; housing supply and affordability; and a crisis in childcare availability for working parents. What is the legislature's role in addressing these issues?
Chris Connell: No response
Karen Hurd: No response
Hillarie Roth: Workforce development starts in our school systems and I feel it is the key to solving many of the issues we are facing with workforce shortages. I would like to see more apprenticeships, school-to-work and other similar training programs within our state. For example, Chippewa Valley Technical College offers several programs in which high school students can earn an Associates Degree WHILE they earn their High School diploma. This allows those students who don't travel the four-year (or more) college path to be workforce ready at no/low cost to them or their families and puts trained, skilled individuals into the workforce quickly. I'd additionally seek input from those served sectors to help ensure we are creating the workforce we need for today's and tomorrow's market. This would be a win for families, business owners, and the students. We need a balance of the right schools, the right housing, and the right child care to retain our workforce and to draw new workers to our area.
Nate Otto: The reality of a 21st Century economy is that states are in competition with each other for skilled employees. Our part of Wisconsin is rich in agriculture, has an educated workforce and is a desirable place to live. Yet, we face a brain drain. People who grow up here seek to start their careers elsewhere. Housing is a major factor. One of the best ways to achieve affordable housing is for the state legislature to promote responsible zoning practices among city and county governments. Irresponsible zoning pits the interests of developers against the interests of the community. We should encourage planning for mixed, dense neighborhoods with ample green space. This increases available lots in good locations. Also, we must attract remote workers. Post-COVID, many companies see the benefit of remote work for certain occupations. I will work with local organizations to highlight the quality of life in our part of Wisconsin and seek workers in telecommute occupations. This first requires expanding rural broadband access.
4.) The 2019-21 State Budget included funding for the first phase of the new Science and Health Sciences Building at UW-Eau Claire to replace aging and obsolete Phillips Hall. The University is now awaiting the second phase funding so that it can begin construction. What level of priority will you put on ensuring that funding is included in the state's 2023-25 budget, and what steps will you take to make that happen?
Chris Connell: No response
Karen Hurd: No response
Hillarie Roth: The rapid growth of science and technology related fields along with shortages in trained healthcare workers makes a new science building a real priority. Decades of change in lab methods, design and technology have left those professors and students teaching/learning in a facility that has been adapted and inserted into spaces that don't reflect the environments in which they will be working once they graduate to work in the professional sectors. I would be interested in seeking public/private partnerships with major corporations for funding as well as design ideas and equipment so the educational environment can offer continuity post-graduation.
Nate Otto: Being an Adjunct Instructor at CVTC, education is a high priority for me. Higher education STEM programs at CVTC, UW-Eau Claire and regional high schools are a key reason companies like JAMF, UnitedHealth Group and Hutchinson Technology build business centers in our area. There is a tug of war in Western Wisconsin. Twin Cities businesses are fighting to pull in Wisconsin college graduates. Western Wisconsin businesses are fighting to pull them back. Here is where Madison can help us. Let's remind Madison of the brain drain running along I-94. Let's remind them that these graduates are Wisconsin's future employers, customers, and job creators. Let's work with educators and with the Board of Regents. Remind the legislature that our part of the state is not in competition with other parts of the state, and that what is good for the Chippewa Valley is good for all of Wisconsin.
5.) Why should a business person in the Chippewa Valley vote for you to represent them in the state legislature?
Chris Connell: No response
Karen Hurd: No response
Hillarie Roth: Small businesses are the backbone of our country and I will listen to, and fight for, the businesses in our community. I believe in supporting local and am excited to partner with entrepreneurial minded individuals within our community.
Nate Otto: My wife and I own a rental business. As a member of the business community myself, I understand the needs of the business community. And I have solid footing in the public sector to match. Besides service on the Eau Claire County Board, I bring to the State Assembly my years of community leadership experience, as a leader in Cub Scouts, as president of my church congregation and my involvement in organizations from United Way to Lions Club. I believe good leader listens. I believe in respecting different perspectives, especially ones with which I disagree. And I am running to represent all the people of 68th Assembly District. Thank you for reading my positions. I look forward to hearing your thoughts as well. Please visit www.ottoforwisconsin.com and we can start the dialogue.
More Information
Election 2022: Guide to the Fall Partisan Elections (Eau Claire Chamber of Commerce)
Aug 9 Primary: Early Voting Information (Eau Claire Chamber of Commerce)
Posted by Danya Morman, Governmental Affairs Intern
morman@eauclairechamber.org