Good Government Council: Wisconsin State Senate District 23 Questionnaire
When: Tuesday, August 9th, 2022; polls open 7:00 a.m. to 8:00 p.m. Find your voting location at myvote.wi. All absentee ballots must be requested by August 4th and turned in no later than 8:00 p.m. on August 9th either by mail or dropped off in-person. In-Person absentee voting will start Tuesday, July 26th and end Friday, August 5th. You can vote early Monday-Friday from 8:00 a.m. to 5:00 p.m. If you plan to vote by mail, voters are strongly encouraged to mail their ballots as soon as possible to ensure their ballot is received by the deadline.
What it's about: The Wisconsin State Senate is made up of 33 senators, 1/2 of which are up for election every two years and are elected for four year terms. This year, the odd numbered Senate districts are up. A Republican primary is needed to narrow down the candidates. With no democratic candidate, the republican candidate will be running against any write-in candidates. Incumbent Kathy Bernier will be retiring and not seeking re-election. The candidates for District 23 Senate are:
• Jesse James (R-Altoona) Website
• Sandra Scholz (R-Chippewa Falls) Website
• Brian Westrate (R-Fall Creek) Website
Who can vote: The election is open to residents of the 23rd Senate District. Click on the image to pull up a more detailed and interactive map.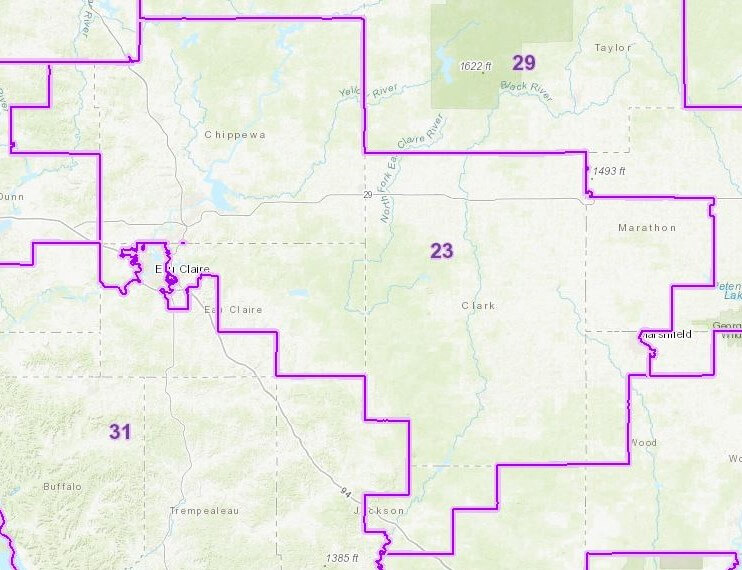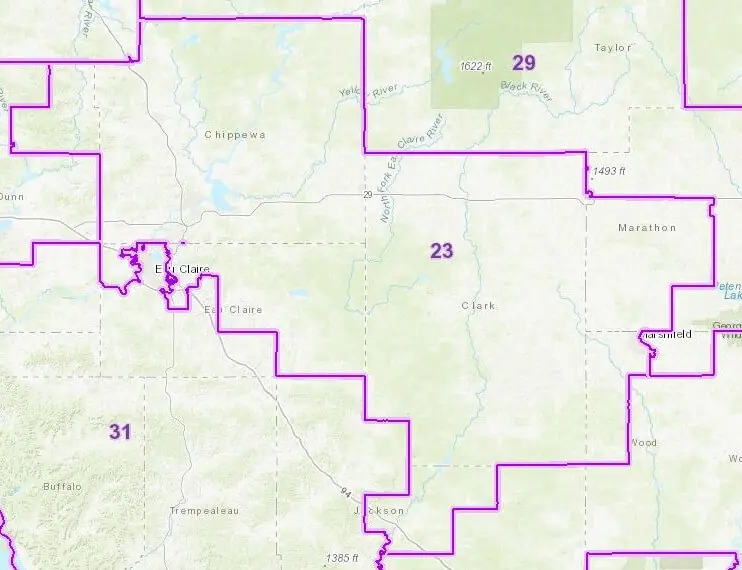 Where you vote and who is on your ballot:
• Go to myvote.wi.gov
• Enter your voting address to learn which races are on your ballot and where you vote.
Why this questionnaire: The Good Government Council (GGC) is a committee of the Eau Claire Area Chamber of Commerce dedicated to encouraging voter participation and providing members of the business community with non-biased information about candidates' positions on important issues. Although the Chamber is active in policy issues, it is non-partisan and does not endorse political candidates.
Unfortunately, we did not receive a response from Sandra Scholz.
Candidate Responses
1.) Why are you running for this office, and what are the top three priorities you will emphasize if elected to the next session of the legislature?
Jesse James: I believe in opportunity, and it exists in front of me right now. I will never get this chance again as once an incumbent gets into the seat they will be difficult to beat. I take advantage of these opportunities, just as anyone else would. This is a chance to get to the upper house of the legislature, where our voice will be stronger, our vote a little more powerful, and relationships formed in the Assembly will go a lot further. My priorities will include looking at mental health as I said in 2019 it will be on the rise and it sure has. We need to address the chapter 51 process, which will hopefully bring savings to our law enforcement and county governments. I will continue to bring solutions to address the ongoing meth, opioid, and alcohol issues in our state. I was a proud bipartisan partner to our bill which decriminalized fentanyl testing strips. We also need to continue to look at the foster care and adoption processes.

Sandra Scholz: No Response

Brian Westrate: When I see a problem, I don't wonder how government can fix it, I wonder how government caused it. I am running to serve in the State Senate in order to shrink the size and scope of government. We must have excellent roads, fully funded law enforcement and fire departments, and thriving schools, in order to pursue these goals without further burdening our tax-payers, we need to cut unnecessary areas of government.
I will be pursuing universal school choice so all parents have the ability to choose the educational environment that best meets the needs of their children, and their family. I will work to fully fund our law enforcement agencies so that we can attract and retain the officers we need to protect our communities. I will seek to end any government program that provides benefits for able bodied adults who choose not to work, during this time when our business community is in desperate need of employees, we must not penalize those who work, by rewarding those who don't.
2.) What role should state government take in supporting a vibrant business economy in Wisconsin? What specific actions or policies would you propose to accomplish it?
Jesse James: Business is one of the backbones to Wisconsin's success. The role of state government should be to get rid of things like the personal property tax. Something I signed onto and supported and will continue to support. I found it weird on how I purchase equipment for my business, pay taxes on the item when purchased and pay annual taxes on the same item I already paid taxes on. This simply does not make sense to me. We should look at other opportunities such as the possibility of a flat tax in our state. I know some discussions have taken place regarding this and I find it interesting and need to learn more of the big picture impact a flat tax would have on our state. I am still learning from my colleagues about this. We need to support those who may need a little help in starting their own business. I think the economic development grants available are an awesome way to give people the opportunity to live the American Dream. I applaud those who aren't afraid of chasing their dreams.

Sandra Scholz: No response

Brian Westrate: I believe my answer to question one also serves as an answer to this question. In summary, I believe that the best way government can support a vibrant business economy is by performing those few legitimate functions of government with maximum efficiency, functions like roads, police, fire, and education, while otherwise staying out of the way of the private sector so it can grow and prosper by providing the goods and services demanded by individual consumers.
I will specifically seek to scale back and/or eliminate the regulatory burdens from state agencies like the Department of Agriculture, Trade and Consumer Protection (DATCP), Department of Safety and Professional Services (DSPS), and the Department of Workforce Development. Government has grown to big, and become too intrusive into the marketplace.
3.) Businesses today face several significant workforce challenges, with more jobs open than individuals available to fill them. Among these issues are demographics related to the size of the workforce; state support to recruit and retain employees to the area; housing supply and affordability; and a crisis in childcare availability for working parents. What is the legislature's role in addressing these issues?
Jesse James: I think the working family with children and the price of childcare is an issue we need to address. Lets give incentives to those working in childcare to have deeply discounted, or up to free childcare if they have children at the facility. This cost savings to the families would be a huge benefit and would help address the childcare worker issue. We have to address the childcare deserts across our state to include the Chippewa Valley. I think if we start helping families with children, there will be a ripple effect to help address the other issues. It all starts with our children and families. The workforce housing bill package led by Rep. Summerfield helped address and bring solution to the housing supply and affordability issues. Some of these bills made it through, some did not. I would support these bills when introduced again next session.

Sandra Scholz: No response

Brian Westrate: In summary, I believe the legislature's role is to keep government from getting in the way of the private sector. Again, when I see a problem I often look for how government caused it. The current labor shortage is directly connected to governmental policies at the state and federal level. The housing shortage is due to the government policies prior to the crash of 2007 and 2008, and the shortage combined with the government injecting trillions of dollars into the economy is directly responsible for the rise in the costs of housing. The government having reduced all childcare centers in the state for months on end is largely responsible for the shortage of available child care today. Many of those centers could not weather the storm of government intervention, and they closed for good. In each of these challenges faced by our business community, government bears direct responsibility.
When something is the cause of a problem, doing more of it will not be the solution. As a member of the legislature I will view it as my job to stop the government from meddling in the marketplace so that the marketplace is free to solve its own problems with solutions that will adapt and change as the problems adapt and change.
4.) The 2019-21 State Budget included funding for the first phase of the new Science and Health Sciences Building at UW-Eau Claire to replace aging and obsolete Phillips Hall. The University is now awaiting the second phase funding so that it can begin construction. What level of priority will you put on ensuring that funding is included in the state's 2023-25 budget, and what steps will you take to make that happen?
Jesse James: This is something I would continue to support in our legislature. This was a priority the first go around, and I know how politics comes into play here. I think having discussions with the decision makers in the UW system is the route to go as they prioritize and list the projects they feel should be first and last. Messaging within our caucuses needs to be one unified message from us up here in the Northwoods. Being able to take advantage of private-public partnerships is part of this messaging, especially when dollars are on the table. The messaging needs to show how much this would benefit Wisconsin and our young adults who choose to attend college in our state, which benefits our future due to the education they are receiving. This may become a priority once things start to move, we have to fulfill the commitment of finishing a project once shovels hit the ground. This may help once the project is underway. Kind of pushes the issue to the top of the list, right where we want to be.

Sandra Scholz: No response

Brian Westrate: During this time of incredible innovation and advancement, and an aging population focus on the sciences and health sciences is more important than ever. I will commit to working with my colleagues in the legislature, especially those in Western and West-Central Wisconsin to responsibly see this project through. It is hard to place a "priority" level on a project more than a year before the next budget process will begin, however I will reiterate that as a life-long resident of the Chippewa Valley I am very cognizant of the importance the UWEC plays in our cultural and economic landscape. With $109 million ($93.25 from the state) having already been spent I expect that ensuring the completion of the project will remain a top priority for the Chippewa Valley legislative cohort during the budget process.
5.) Why should a business person in the Chippewa Valley vote for you to represent them in the state legislature?
Jesse James: I shared with everyone on how I would work bipartisan when I ran in 2018, and 2020. My first session I was able to get through our first bill, which benefited veterans, which was a bipartisan bill. This session I was able to author, co-author 15 bills, three which were vetoed, but 12 which were signed by our governor. How did this happen in divided government? By developing relationships with my democrat colleagues, so they would advocate to the governor saying this is a good bill. We need to get this through for our Wisconsin people. My legislative work history, the relationships formed, common-sense, and logic is something I will continue to bring forth as your next Senator to the 23rd Senate District. I know how to get things done and will continue to represent the Chippewa Valley in a positive, enlightening, and hopeful way. We can get things done as long as we are talking, negotiating, compromising, with an open-mindset, and heart.

Sandra Scholz: No resonse

Brian Westrate: Because I have spent my entire life working in small business. From the age of seven I was earning W2 wages working at my dad's print shop first in Eau Claire, and then in Altoona. After graduation from college with a business/political science degree I founded a business in Altoona where I had as many as 32 employees. I ran this business for 17 years before I had to shut down due to market conditions, and then I opened my second small business in Altoona, which I own and operate today. I know the struggles facing our business community, I have lived them daily as an adult for more than 20 years. I am asking for your vote in the Republican primary (there is no Democrat in the race) on August 9th so I can take my experience, knowledge, and work ethic to Madison to ensure that government intervention is not among the challenges faced by our business community.
More Information
Election 2022: Guide to the Fall Partisan Election (Eau Claire Chamber of Commerce)
Aug 9 Primary: Early Voting Information (Eau Claire Chamber of Commerce)
Posted by Danya Morman, Governmental Affairs Intern
morman@eauclairechamber.org