Both City and School District Tax Referendums Pass
November 10, 2022
On election day, voters approved both the City of Eau Claire Tax Referendum and the Eau Claire School District Referendum. Both referendums will increase their respective mill rates. A mill rate is the amount of tax on each $1,000 of assessed property value.
City of Eau Claire
YES – 18,409 (63%)
NO – 10,601 (37%)
The city of Eau Claire's referendum passed and will permanently increase its mill rate by 22 cents per thousand dollars of assessed value. The city-only portion of the mill rate in 2021 was $6.278 per thousand ($7.286 including the library and health dept, and will be increased to $6.498 ($7.506). The additional funding will help to hire 15 public safety positions. The personnel hired will be six police officers, six firefighters/paramedics, two civilian community service officers, and one civilian law enforcement associate to support 911 operations.
Eau Claire Area School District
YES – 24,970 (64%)
NO – 14,026 (36%)
The Eau Claire Area School District's referendum passed, and the ECASD will increase its mill rate by 40 cents per thousand over the next 20 years. The school district's mill rate for 2022-2023 was set to be $6.33 per thousand, but will now be $6.73 This tax increase will be used to help finance building and capital improvements across several schools estimated to be around $98.6 million. .
Before the election, Eau Claire Area Chamber of Commerce sponsored a joint panel discussion with both the City and ECASD to learn more about the referendums that can be viewed here.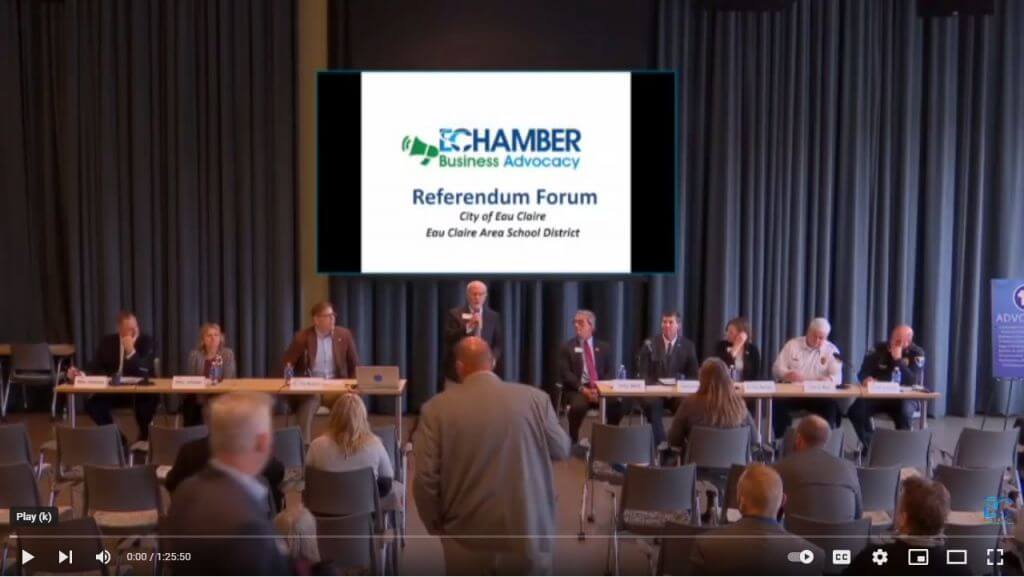 More information:
Eau Claire voters OK new police, firefighters (Leader-Telegram $)
EC school district referendum passes (Leader-Telegram $)
Wisconsin approves majority of school referenda statewide (WPR)
Eau Claire voters approve referenda for city personnel, school district (News 13 WEAU)
Eau Claire voters support city, schools in referendum questions (News 18 WQOW)
Voters support 85 percent of municipal public safety referendums in Tuesday election (WPR)
Posted by Emily Johnston Governmental Affairs Intern johnston@eauclairechamber.org