2023 Working Mothers Luncheon Panel
We are happy to introduce our fantastic panel of working mothers. This diverse panel has been carefully selected to give expert advice on how to manage motherhood while working a job.
Stacey M. Jackson Ph.D.
Dr. Stacey Jackson is an Assistant Professor at the University of Wisconsin-Eau Claire. She received her B.A. in Psychology from South Carolina State University, her M.S. in Community Psychology with a specialization in African/Black Psychology from Florida A & M University, and received both her M.A. in African and African diaspora Studies and Ph.D. in Counseling Psychology from the University of Texas at Austin. Dr. Jackson became a mother while working to complete her Ph.D. As a single parent, Dr. Jackson's son was her inspiration and motivation to complete her degree and be a positive role model for her son. Following the completion of her Ph.D., Dr. Jackson landed her current teaching position at UWEC. In her role, Dr. Jackson established the Marginalized Identity Status and Trauma (M.I.S.T) Research lab, in which she serves as the faculty advisor, mentoring students in conducting research heavily geared towards the social justice and empowerment of collegiate students from marginalized identities. Her research interests explore the implications of the trauma individuals from marginalized identities experience on their overall well-being. In addition to teaching, she also serves as a Clinician at the University Counseling Center where she sees students for individual, couples, group, and crisis counseling, along with providing psychoeducation and outreach services. In her first year at counseling services, Dr. Jackson created a Women of Color focus group to help meet the needs of women of color on campus. This therapy group has since grown to become a student of color support group. Dr. Jackson has served on several committees on campus, within the Eau Claire community, and within her field devoted to Equity, Diversity, and Inclusion efforts. She has provided several keynotes, workshops, facilitated dialogues, and trainings regarding mental health and well-being, culturally appropriate approaches to counseling African Americas, Self-care, Stress Management, tele-health, coping strategies in response to racially motivated worldly events for students, faculty, and staff at UWEC, the greater Eau Claire community, institutions of higher education, organizations, and businesses. In March of 2020, Dr. Jackson gave birth to her second child, a daughter who was born 10 weeks premature during the height of the COVID19 Pandemic. During this time, Dr. Jackson had to navigate teaching from home with a newborn and a kindergartener doing virtual school. The pandemic brought several challenges, but through the tough times, Dr. Jackson excelled and celebrated several successes as an educator, mentor, scholar, clinician, and most importantly, as a mother.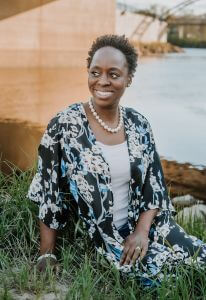 TaNevia Johnson
Hello, my name is TaNevia. I am the owner of Legacy Hair and Beauty Supply, Bags and Boujee, and a social worker. I am very very busy, and in everything I do, I strive to encourage others. My daily goal is to try to make others feel special and beautiful in their own skin. I opened Legacy to fill a void in the community for people of color, but more importantly, I wanted a store that EVERYONE could come and get all their hair care products in one place. This was the first step in creating an inclusive space in the Chippewa Valley for the hair care industry. I carry a little something for everyone. Through my work, I put an emphasis on community and uplifting other women entrepreneurs. One thing I say all the time is, "We are stronger together". There is nothing that can stop strong, ambitious, united women. But my most important job is being a mother to my 1.5-year-old son because he is my reason why! I am a first-time mom who takes pride in working hard each day to build a legacy for my son!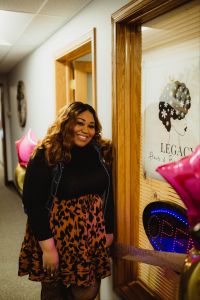 Melissa Koontz
Mel Koontz is the Vice President of Marketing & Communications at Royal Credit Union, where she has worked for four and half years, including the past three years as a fully remote leader. Mel closed her natural skincare business Melnaturel in January this year to spend more time with her young and growing family. Mel is also one of the founding women of 100 Women Who Care Eau Claire (a local philanthropic organization), serves on the regional board for Big Brothers Big Sisters of Northwestern WI, and values the role of her mentors and enjoys being a mentor to others.
Mel was born and raised in Eau Claire. She and her husband Geoff live on the river and have two boys, James (age 3) and William (6 months). Mel looks forward to "me time" playing golf in a ladies' league every summer with her girlfriends and also enjoys spending time on the pontoon.
Mel is a two-time Chippewa Valley Technical College graduate with associate degrees in Marketing and Supervisory Management. Mel also has a bachelor's degree in Management with a minor in Project Management from the University of Wisconsin-Stout and a master's degree in Marketing & Communications Management from Franklin University.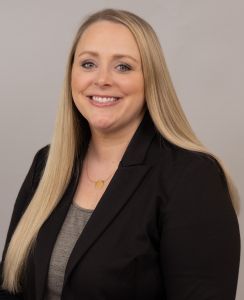 Kelly Williams
My name is Kelly Williams. I am the co-founder/co-owner of Appel Weight Loss & Body Contour Clinic. My business has been my passion for over 12 years. In my previous life, I had not taken care of myself physically, emotionally, or mentally and was very unhealthy and overweight. I worked in Admin and Sales and hide my emotions well.
I work with Women, Mothers, and Men daily to find a better healthy balance and relationship with food. I help women with hormones and allow them to feel better in their own skin. We also specialize in Red Light Therapy. I am a Certified Nutritionist, Certified Health Coach & Certified Life Coach. I am a married Momma of Two Teenage Boys who are 17 & 15. I work Full Time 3-4 12-hour days.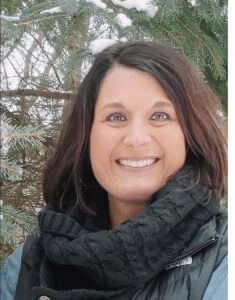 Kim Wudi
2023 will mark Kim Wudi's 17th season as head volleyball coach at the University of Wisconsin-Eau Claire. Under Wudi, the Blugolds have won five Wisconsin Intercollegiate Athletic Conference (WIAC) titles and qualified for the NCAA Tournament eleven times. In 2021, the Blugolds posted a 35-3 record en route to claiming the NCAA Division III Women's Volleyball National Championship. Her coaching accolades include four WIAC Coach of the Year honors, two American Volleyball Coaches Association (AVCA) Midwest Region Coach of the Year awards and the 2018 AVCA National Coach of the Year award. Wudi has also served on the USA Volleyball Badger Region Volleyball Association Board of Directors since 2012 and is currently an AVCA Division III Head Coaches Committee representative.
Wudi resides in Eau Claire with her husband, Jason, and their 2 daughters, Layla (13) and Sophia (8). Directing a championship-caliber volleyball program comes with stressful "seasons" but also offers flexibility during other times of the year. With a partner who travels frequently and children busy in theatre, dance, sports, and school, Wudi relies on shared calendars, trusted friends, student nannies, and a whole lot of coffee and grace to balance marriage, motherhood, and coaching.