The May edition of Eggs & Issues featured John Kircher, the vice president of the midwest region for the US Chamber of Commerce on May 19th, 7:15 a.m. at the CVTC Business Education Center. He came to Eau Claire to give local business leaders congressional and political updates from a national level.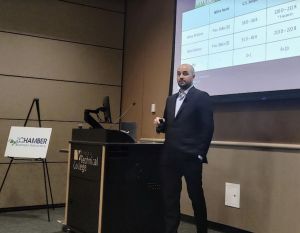 One of the main points, and that of most interest to many Eau Claire business leaders, was issues concerning the workforce gap. Kircher said the workforce gap is currently at 4 million and hiring is still strong. He explained that many of these lost workers are due to the retirement of baby boomers, mothers leaving the workforce (childcare concerns) and a lack of legal immigration.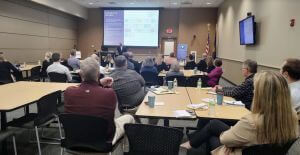 This issue is seen to be the greatest medium/long term challenge to business and the economy. The workforce gap contributes to inflation and caps economic growth. Kircher said to close this gap there needs to be a push to get people educated in lifelong skills, be an effort to get people off the sidelines, and finally, an increase in legal immigration.
Kircher said that in order to get more positions filled, there needs to be an increase in educating people, not only in four year colleges but also through two year colleges, technical schools and other similar programs. He also mentioned the importance of convincing more people to enter the job market. This includes offering benefits, especially increased childcare for those who can not work due to children at home.
Kircher emphasized the importance of an increase in legal immigration. The US Chamber supports the LIBERTY campaign. Among other things, the LIBERTY, or Legal Immigration and Border Enforcement Reform This Year, campaign is arguing for an increase in resources at the US-Mexico border, an increase in the number of employment-based immigrant and non-immigrant visas, expanding essential worker programs, and creating new visa options for students, entrepreneurs, and high-demand workers.
It is also important, Kircher said, that towns be ready to meet the needs of new workers coming to their regions to work, especially when it comes to housing.
In addition to workforce, Kircher also touched on many additional issues:
Economy- Rising inflation has many people feeling pessimistic about the US economy. The economy is slowing and although wages have increased, inflation is outpacing it.
Government- The US government continues to be very divided and competitive house districts are declining, mostly due to redistricting.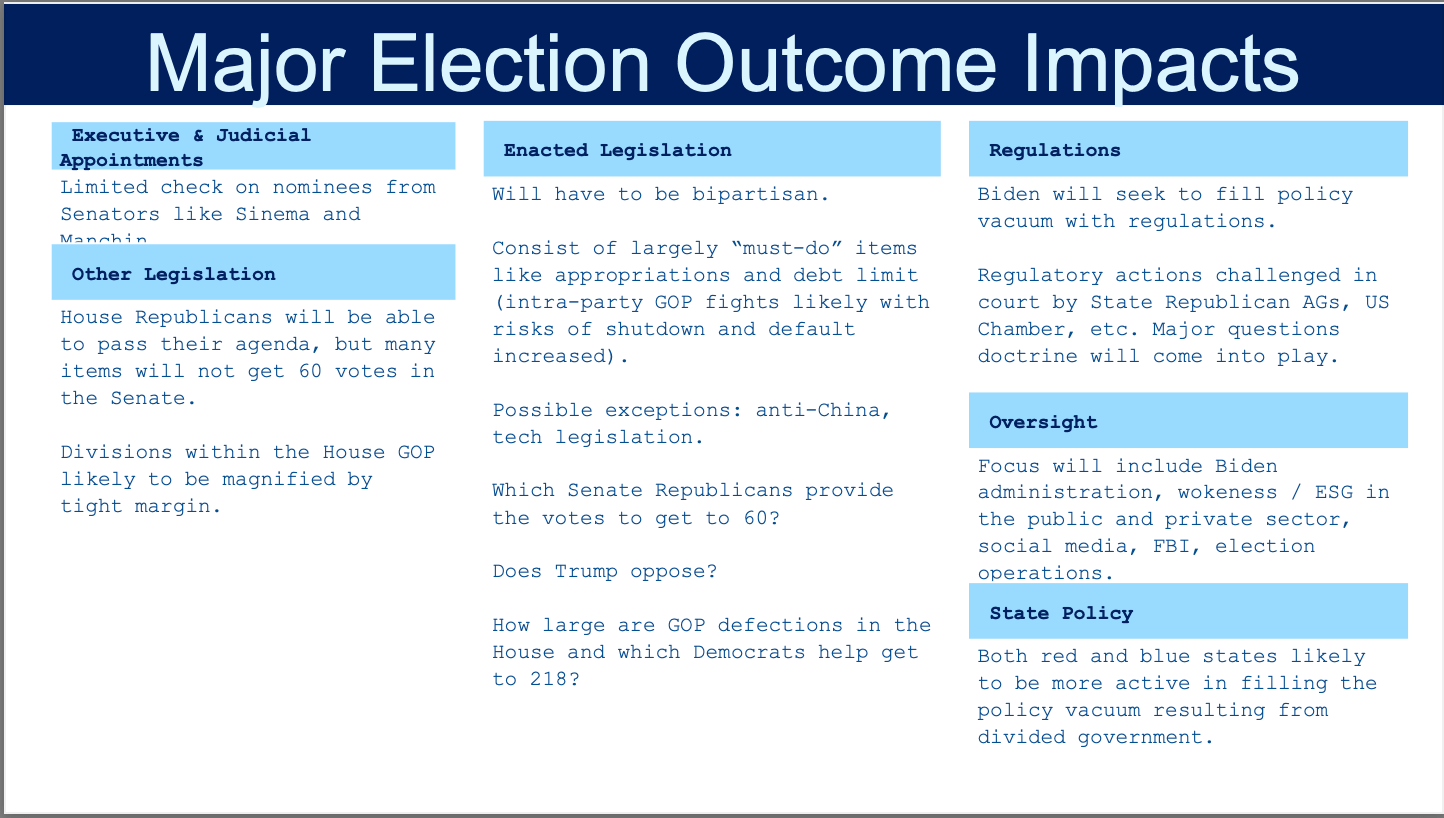 Debt Ceiling- Secretary of Treasury Janet Yellen expects a default could occur as soon as June 1st. However, people are hopeful Joe Biden and Kevin McCarthy will come to an agreement before then. A default could have a "catastrophic effect" on financial markets.
Permitting Reform- There is a coalition of business, climate, labor, etc who wish to see a change in permitting. The US Chamber sees this as an opportunity to unite Republicans and Democrats and get something passed.
Regulation-  The Biden administration has banned non-competes, limited mergers, and challenged licenses to operate. The US Chamber has responded with FOIA, litigation, and public oversight.
Trade- The US sees many benefits from trade with 41 million American jobs depending on trade. It has been 10 years since the US has added a new trade deal though. The US has trade deals with 20 countries, the EU has 78, Mexico 50 and China 35.
To learn more about LIBERTY, go here.
Posted Mallory Williams, Governmental Affairs Intern
williams@eauclairechamber.org